One man's gift: The Father Edward Leo Hayes collection
"Books everywhere. Shelves everywhere. And cupboards. They're overflowing. I've even books under my bed."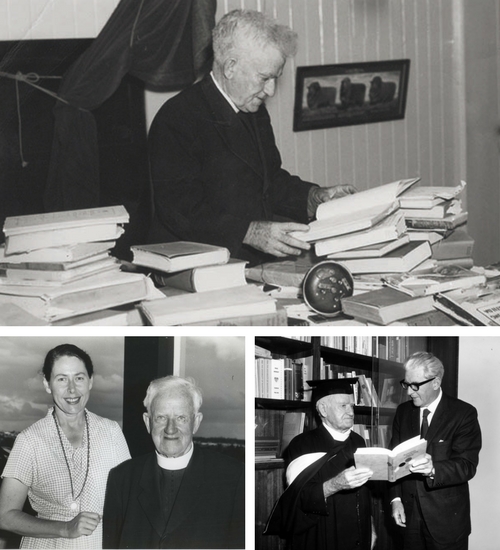 The Hayes collection in the Fryer Library is named after its collector, the Venerable Archdeacon Edward Leo Hayes (1889-1967).
It was delivered to The University of Queensland (UQ) over the course of two days in October 1967, when a convoy of removal trucks carrying 80 large crates and 400 cartons made its way to the St Lucia campus from Father Hayes' Catholic presbytery in Oakey to the University's St Lucia campus. 
The Hayes bequest was enormous: 25 tons (22 700 kg) of material in all, 'a weight of learning', as UQ Vice-Chancellor Sir Fred Schonell put it.1 Among the many rare books, manuscripts, letters, and historical documents were objects including coins, stamps, photographs, rocks, guns, and even Condamine cowbells.
Even before his history-making bequest arrived at St Lucia, Father Hayes greatly assisted scholarship of Australian literature by lending his private collection of books. Friend and former Reader in English, Cecil Hadgraft, had, on occasion, borrowed copies from Hayes' collection for teaching and research in his literature courses at The University of Queensland. Correspondence between Fryer Librarian, Nancy Bonnin and Father Hayes documents these activities. The University recognised Father Hayes' services to literature by awarding him the Honorary Degree of Master of Arts on 26 April 1967.
On the 50th anniversary of the receipt of the Hayes bequest at UQ, we reflect on this inveterate collector and his support for research into Australian literature and culture. In the following pages, you can explore a selection of material from the Hayes collection. The original, historical objects can be viewed in the Fryer Library, the RD Milns Antiquities Museum, and the UQ Anthropology Museum.
---
1. The Catholic Leader, 2 Nov 1967, p.3